---
---
27/11/2014- Words of wisdom for everyday life......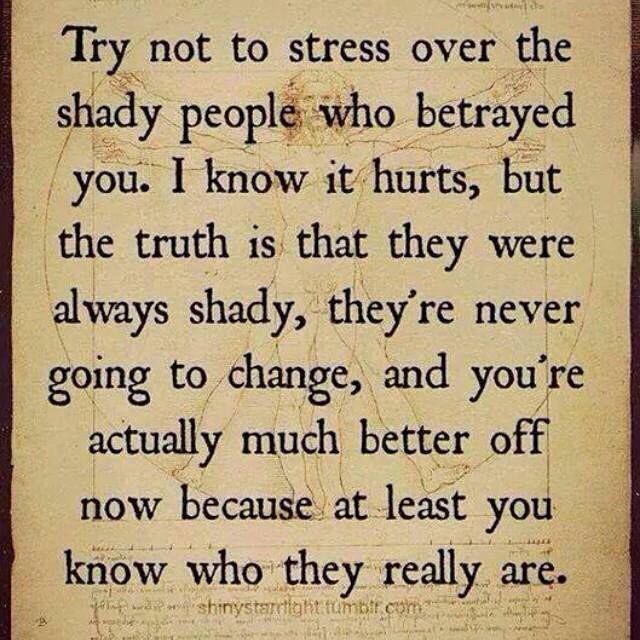 ---
19/11/14- Forgot to announce our girls hips and elbow scores. Congradulation's to Hans & Lisa Roeters of Easy Living Bernese Mountain Dogs. Their girl "Limari" aka LENORA EASY LIVING has a hip score of 1:1 and elbows 0:0 (international grade: A). Our girl "Fire" aka IMAGIN IM ON FIRE had a hip score 1:1 and elbows 0:0.
---
13/11/14 - Great day!!!
---
28/9/2014 - Hi all there,there has recently been a little confusion regarding how many dogs we own due to the number of dogs in our name on the NZKC website. When people purchase a puppy they do so under verbal/written contracts. Almost all puppies are sold with the endorsement "not to be bred from" and "no export pedigree", apart from those we give away (for free) for breeding/showing with verbal contracts to very close friends. As most puppies are pets we frequently ask the new owners to chose a name and once the paperwork is accepted by the NZKC we send it onto the owners to sign for the endorsements. Many people return the papers however some dont, as they dont care...... For example I have copied a couple of the emails confirming that this is what happened....
Dear Maureen,
It was my decision not to have Jaykh's Registration transferred over to me, simply because I didn't feel the need to. I loved him so much that I didn't think transferring was a necessity, and most of all, I explicitly trusted you!
My concern was always Jaykh's welfare and, that if any harm should come to me, and I couldn't look after him, you said you would willingly take him back and either take care of him until I was able to care for him again, or find another good home for him. I thought to myself at the time (" I hope that never happens") . But it did!! You and Nicola and Robyn opened your hearts and home to Jaykh and kept him for 3 months until I was able enough to bring him home again.
Maureen you are a woman of your word and you can stand tall and proud! And as the cliche' goes "lie straight in your bed". I admire you for that, as you honestly do put your dogs and owners best interests at heart first and foremost.
I am forever grateful for you,Robyn,Nicola and Imagin Kennels coming into my life.
Kindest regards,
Deborah Ellison
and another.......
" We apologise for not having done this sooner but to be honest the registration papers got boxed up when we moved house and we have only just come to the surface! We vow we are not moving house again"
Gary Kirk
If further letters are required please email us privately :) We can account for every dog :)
---
19/9/14 - We have a gorgeous litter of babies born, they are now for weeks old. Pictures coming soon. The mother is "Imagin Im On Fire" and the father is our Lithuanian Import "Whiskey" aka Trispalvis Zaismas Fanatic.
---
28/3/2014- Yesterday we lost our beloved old girl aqua.
" AQUA" CH Imagin Over The Limit- 6 October 2002~27 March 2014
We have had a wonderful 11 years and 5 months with her .The only daughter of Gold CH Imagin To Hot To Handle. My Daughter Robyn's first bernese show dog and carting dog. Loved all animals and people. You have taken a piece of my heart with you and our house will never be the same. R.I.P Aqua. This photo was taken on her 11th birthday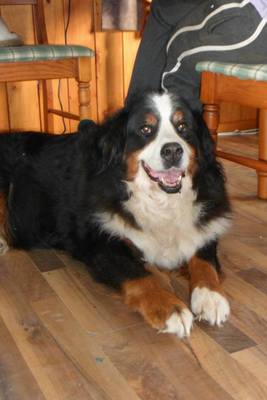 ---
24/3/2014 - At the 6th Bernese Championship Show CH Imagin Hooked On The Adiction aka 'Milaya' won BEST NEW ZEALAND BRED IN SHOW. Our girl Imagin Under The Influence aka Piper won BEST MINOR PUPPY IN SHOW. We would also like to congratulate our very dear friends Alison & John Firks on their BEST PUPPY IN SHOW, at the Bernese Championship Show, & BEST PUPPY IN GROUP at the Cambridge Shows with their new Polish import Zumi Ra Deikowej Doliny aka Nadia. Congratulation's of course to her breeder Teresa Deik, she is gorgeous!!!
AND of course Linda Jury with Fergie who won BEST IN SHOW at the 6th Bernese Championship Show, now known as BISS CH Schallenberg Just Wild About!! Congrats Linda a well deserved win!!!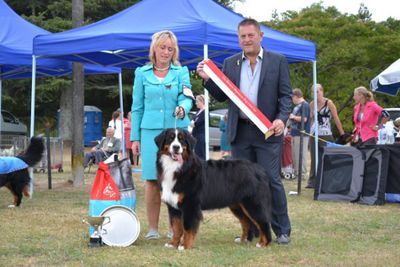 ---
22/2/2013 - Our gorgeous boy 'HARLEY VAN DE KLAVERHOEVE' was best of breed at both shows on the weekend and BEST OF GROUP Saturday. Harleys granddaughter Piper also won BEST BABY PUPPY OF GROUP and reserve of breed on Saturday. On Sunday Char, Piper's grandmother was reserve of breed. Full show results are coming soon but here is the video of the show if you wanted to see all the dogs........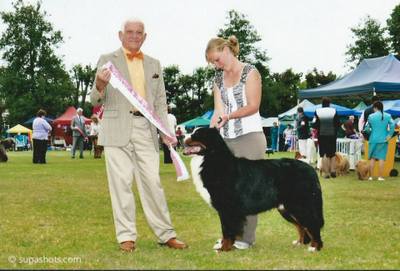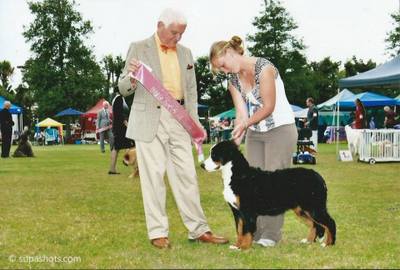 ---
---
22/12/2013 - We would like to congradulate Whiskey's breeder Sonata and Danius Pravillonis of Trispalvis Zaismas Kennels, and Ausra Sakiene of Eos Everestas kennels (owner of the sire of Whiskey) on his excellent hip & Elbow scores. Whiskey, Fanatic Trispalvis Zaismas scored 1:1 on his hips and 0:0 of his elbows!!!
---
---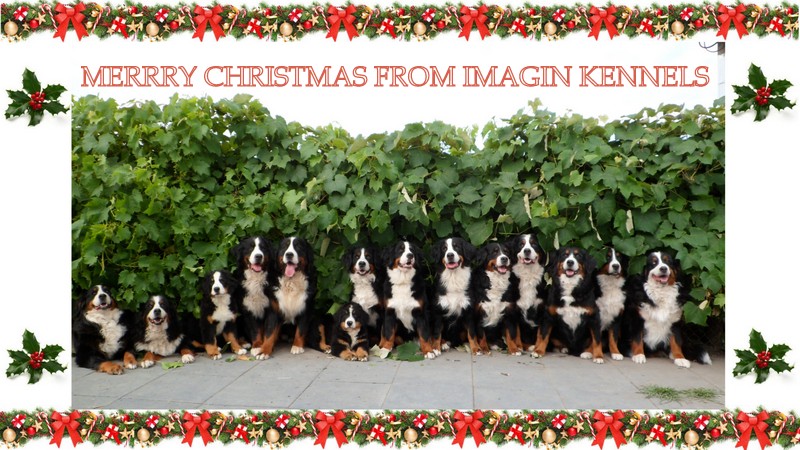 21/12/2013 - It has been a very exciting 2013 for us at Imagin kennels.
three new imports have arrived from europe.
First was "Eternal Flame Carallsa" pet name Flame arrived from Carallsa kennels in the czech republic.A very big thank you to Jana and Nela Pultarova for rearing him until 9 months for us and allowing us to have one of your puppies .He is a very beautiful boy and with limited showing has already 3 junior of groups under his belt.
The second Import to arrive was "Lenora Easy Living" pet name Limari arrived from the "Easy Living kennels in Belgium.A very big Thankyou to Lisa and Hans Roeters for allowing us to have such a beautiful Girl.Our thanks must also go the Sandra Tips and Family for rearing Limari with so much love and then having to part with her.Limari has had limited showing and at her second show got puppy of group.
The third Import to arrive is "Fanatic Trispalvis Zaismas" pet name whiskey from Lithuania via USA.A very big thank you to Sonata and Dainius Pravilionis who were so patient with us when we discovered that we could not import into New Zealand from their country.Luckily I had a very dear friend in USA, Nikki of whiskey creek bernese who without hesitation agreed to rear him for us.Our thanks go to Sonata and Family for allowing us to have a puppy from them and Nikki who reared Whiskey with so much love.Whiskey arrived only a couple of months ago so as yet has not been shown.
We know how hard it has been for all these people to rear and love these puppies and then having to send the to the other side of the world.
SO A VERY BIG THANK YOU'
Here at home we have been so blessed to have Aqua celebrate her 11th birthday on the 6-October and we hope for many more she is still loving her food and life.
Tequela has just celebrated her 8th birthday on 22 december and is still as hypo as ever.
Soda has just had her first litter at 3 years old and had 12 puppies alas 2 were born dead but 10 have grown into very beautiful puppies who have now left us for there forever homes except 1 girl called piper is staying with us.
Abby has had her first litter at 4 years old 1 big boy who will also be staying here.
Around and about with our puppy people- Robyn Gardners boy Miru Miru celebrated his 11th birthday on the 29 November. Vale Bakers girl Becky celebrated her 10th birthday on the 20th july and Linda Talbots Heidi celebrated her 10th birthday on the 5th of september.
A big thankyou to all our puppy owners for being such great people and giving our puppies such great homes.
So 2013 has been good to us and we wish everyone a merry christmas and a great New Year.
For us 2014 is going to be another exciting year with the arrival in March of a beautiful girl from europe cannot wait.
---
---
29/10/2013 - Since we have had our litter 7 weeks ago we have been approached by several puppy people wanting to purchase a puppy from us. They have said to us that other breeders said "there is a litter in Auckland, that we most definitely can not recommend" of course these breeders are talking about us!
First of all I would like to point out the breeders stating this about our kennels have current litters advertised on the Bernese Mountain Dog Club of NZ website and here is where it gets confusing as to who is the unethical breeder......
First of all the Bernese Mountain Dog Club of New Zealand has a code of ethics that is suppose to be obeyed by all breeders......
The first code that I would like to point out is, these are direct quotes from their website
www.bernese.org.nz
.....
HIPS
1. The Bernese Mountain Dog Club of NZ recommends that dogs with hip scores over the current breed average should not be used for breeding .................. current litter has over the current breed average.
2. Hips (I) Breeders should at all times provide true representation to the purchaser and explain any known hereditary problems to the prospective owners. Never use misleading, or untruthful statements in selling or advertising.
We have been contact by two puppy people that were unaware of the high hip scores of the bitch litter being advertised ..... and whose unethical???
So we ask again why are we being ridiculed yet the club is advertising a litter that goes against all the code of ethics with a score of ALMOST twice the breed average.
I would like to add, thank you for the ever so kind recommendation's as we now have sold to three families that were told untruths about our kennels!!
---
---
9/9/2013 - Our girl Soda "Imagin Drunk Wrds Soba Thorts" had 12 puppies on Friday, two were sadly born dead but we have ten healthy babies!!!
---
---
9/9/2013- Limari at her 2nd Championship Show won PUPPY OF GROUP and Flame also got JUNIOR OF GROUP at the same show. Great day for the bernese
---
---
9/9/2013- Carallsa Eternal Flame has just been DNA tested for VWb and DM and his tests are both clear.........
---
---
10/7/2013- Limari has arrived in New Zealand and has two more days in Quarantine until she comes home on Saturday. Thanks you Sandra and Family, and also Hans and Lisa Roeters for everything you have done for us and Limari. Here is a little movie made about Limari's 9 months in Belgium....
Video by Myrthe Dresselaers
---
---
27-03-2013- Flame "ETERNAL FLAME CARALLSA" has finally arrived in New Zealand. He is safe and well in quarantine....... Pictures coming soon :) THANK YOU ever so much Jana amd Nela you two are absolutely amazing as you have already rung both us and the quarantine kennels to check he is safe, you cant get any better breeders that care so much. Love ya both so much, thank you!!!!
---
11/03/2013 - Congradulations to Willy this weekend with his Baby puppy of breed with Imagin Blame It On Tequila he had some very stiff competition. Our baby little Fire won Baby Puppy Of Breed on Sunday. So proud. We had a great time over the weekend at the shows meeting overseas breeder. All the dogs done fantastic and our Soda got reserve of breed Saturday.
---
23/02/2013 - Congradulations to Uncle Willy who today beat 5 other baby puppies to get Best Baby Puppy of Breed with Sirus, Imagin Blame It On Tequila. It was Willy's first time in the show ring and was up against some tough competition so CONGRADULATIONS!!!
---
2013 NORTH ISLAND ST BERNARD ASSOCIATION INC.
BATTLE OF THE GIANTS
This year we decided to hold the Battle of the Giants to suit our dogs and this will be the first time we
have hosted the Battle as a Winter Event.
We invite you to come and have a great social and fun time with us and our dogs.
Where:
Mangatepopo School Camp SH46, 20minutes SW of Turangi.
http://www.mangatepopo.co.nz/index.php
This is a self contained camp on the border of Tongariro National Park which we have booked for the
weekend. All bedrooms heated, Kent fire in communal dining room.
When:
from 3pm Friday 28th to 3pm Sunday 30th June 2013.
This is a great event that my sister and I loved going to when we were younger, and still now!! The people are friendly and helpful and it a great weekend! If you want anymore information regarding this event then please contact us and we will send you the details/booking form!
---
3/2/2013 - Congradulations to Kelly, Samantha, Charlotte and Danny Francis who today made up Milaya "Imagin Hooked on the Adiction" to a Champion. We are very proud of all of you. Congradulations!!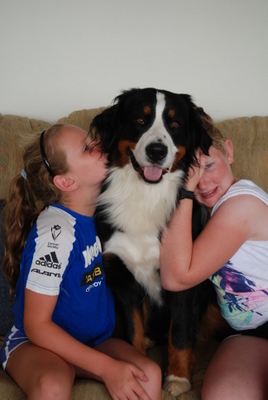 ---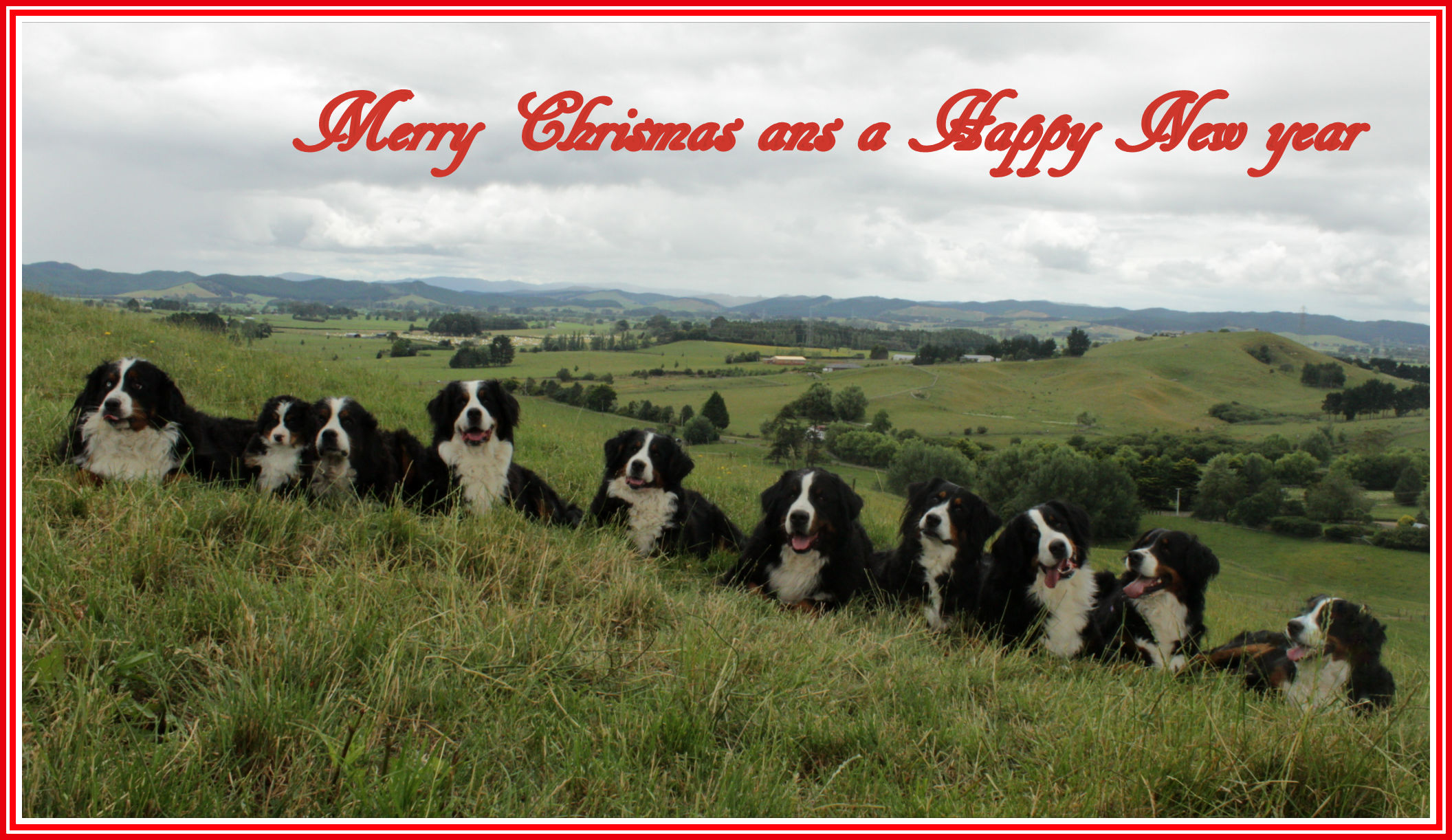 Photo taken and designed by Myrthe Dresselaers
22/12/12- Merry Christmas and A Happy New Year to all.
---
10/12/12 - We have a lovely Belgium girl staying with us who loves Bernese so we took her to the South Taranaki Kennel Centre Shows, on the 2nd December 2012. This gave her the oportunity to see many more New Zealand Bernese. We werent entered ourselves but she sees our dogs everyday. We recorded the show so she could take a copy back to Belgium with her. The video is avaliable on you tube and you can veiw below.....
---
10/12/2012 - We would like to congradulate Kelly Francis and family on their girl Milaya's great hip and elbow results. Elbow result 00 and hips 3 & 4.
Congradulations Francis Family!
---
25/11/2012 - We would like to congradulate Stella Pownall, Samantha & Charlotte Francis on their placings in the Young Kennel Club Child Handler Competition over the weekend.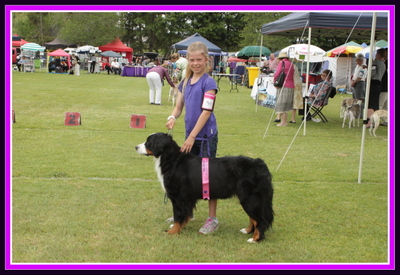 Above:
Stella Pownall - 4th place and first time ever in the ring!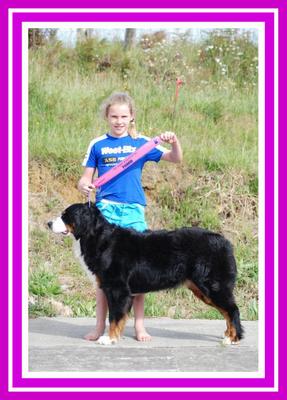 Above:
Charlotte Francis 3rd place child handler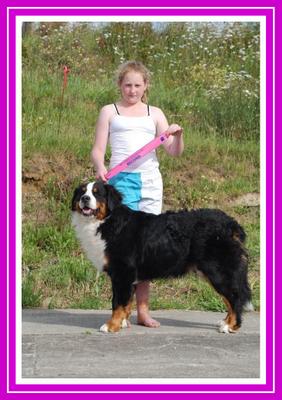 Above:
Samantha Francis - 2nd place child handler.
---
18/11/2012 - Proud to announce the birth of seven puppies.
14/11/2012- We are proud to announce we have purchased another gorgeous european dog and a bitch who will be arriving early in 2013. They are both gorgeous!!! Any breeders that would like to send nasty emails regarding us to any of the three breeders you are more than welcome to do so.... all we ask in return is that you have the courage of your convinctions and sign your name!! If you need there contact details flick us an email and we will send the breeders details to you (please remember which puppies breeder you wish to complain too). Our contact details are found under the "Contact Us" tab in the main menu :) xoxo
---
23/09/12 - Here at Imagin Kennels we are a little confused and understand why we are not members of the New Zealand Bernese Mountain Dog Club INC. On the club website in the upcoming litters page is a litter advertised that goes against the clubs code of ethics. The breeder is also a committee member. Is there one rule for club executives and one rule for everyone else. The worst is many other club members have been repremanded for doing what they are.... confusing times....
---
14/09/2012 - Our new boy from europe has made it to the USA and will be arriving on our shores in 2013, cant wait!!!!
---
9/09/2012 - Congradulations to Kelly Francis with her girl "Miliya" Imagin Hooked on the Adiction, for her Best of Breed, Best Junior and Best bitch placings at the Huntly and Districts Show. 16 in the catalogue.
---
8/09/2013 - Congradulations to Natalie Sperling of Blassis Bernese with her "Wolfy" NZ CH Vevey Beowulf V Blassis. Best of Breed, Best Dog, and Junior of Breed at Huntly and Districts Kennel Club show, there were 16 Bernese in the catalogue!! Well done Nat!!
video of show, full results and photos coming soon....
---
26/5/2012 - Harley "Harley Van De Klaverhoeve" got Best of Breed, Best Dog & Open of Breed at Huntly & Districts Benefit show, with his daughter "Miliya" Imagin Hooked on the Adiction proudly getting Reserve of Breed, Best Bitch and Junior of Breed. "Char" Imagin Glass Half Full was resverve bitch, and her son "George" was NZ Bred of Breed. There was a total of 19 Bernese entered, so was a great day for all.
Full results are up in show results and a video of the show coming soon.
---
We are all very happy to announce that Char "Imagin Glass Half Full" and Soda "Imagin Drunk Words Soba Thorts" have been DNA tested as DM CLEAR.
Congratulations to Kelly Francis owner of "Milaya" Imagin Hooked On The Adiction on her DNA results being DM CLEAR.
Furthermore congrations to Alison Dassler of Nordic Kennels on her DM CLEAR RESULTS of "Tasmin" Nordic Artic Explorer, "Harvey" Nordic Artic Bear, & "Tuscany" Imagin Forty Two Below".
---
We all at Imagin Kennels are very proud, and would like to congratulate Kelly Francis owner of Milaya "IMAGIN HOOKED ON THE ADICTION" Best Bitch at the Cambridge Shows on Sunday 22nd April 2012. A special congratulations to Samantha Francis for her great handling on the day.
---
17/4/2012 - Char, Harley and George all done really well at both the Easter Shows and the Blue and White Shows that were on on the weekend!! The Full results are avaliable in Show Results!!!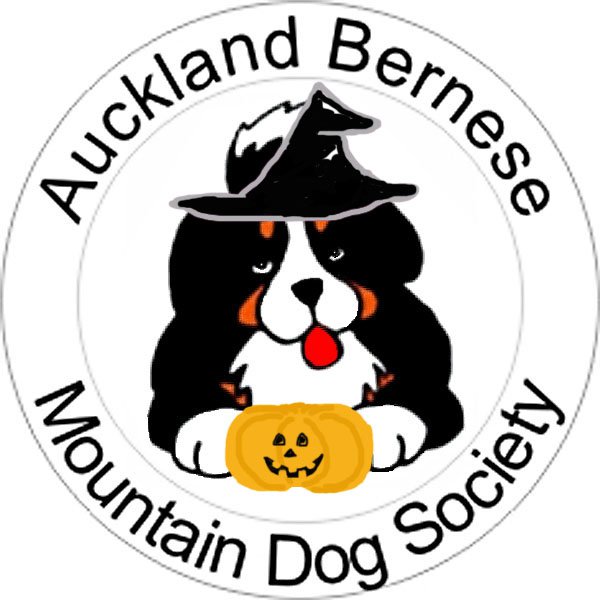 Is holding a carting day on the ....................
18th March 2012
Time:11am
Place:Imagin Kennels,
1283 Taniwha Road
Te Kauwhata
All are welcome, even if you dont have a Bernese Mountain Dog.Even if your dog has never carted before there will be experience people to help you train your dog in a cart :) This is a friendly social event. There will be a bbq lunch, so just bring a small plate to share.
FIND US ON FACEBOOK!!!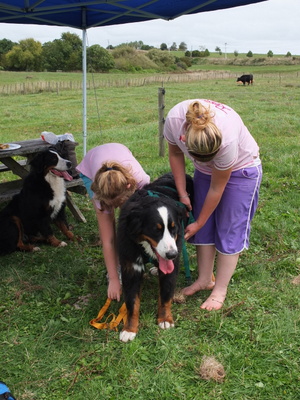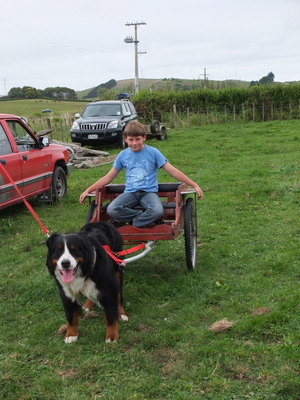 Left: Jasper (Berna), Sam and Robyn getting ready to do some carting
Right: Bently and his little buddy, first time in the cart.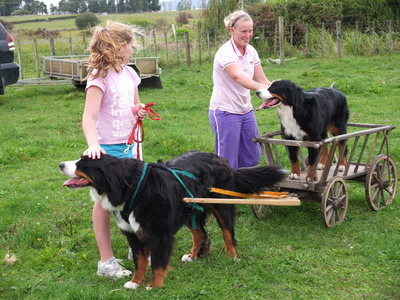 Jasper and his sister Soda ready to go for a cruise.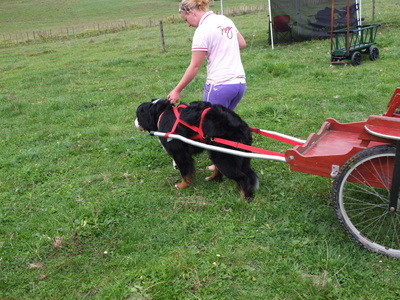 Bently a little nervous, but not too bad its his first time......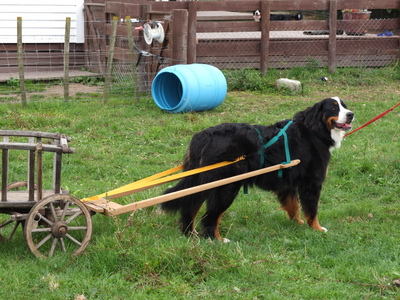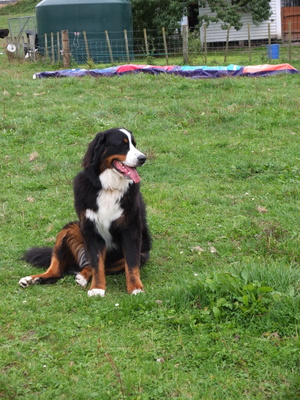 Above & Left: Jasper posing for the camera.
Right: Jasper exhausted from carting now time to sit in the middle and watch everyone else do some work.
MORE PICTURES COMING SOON.....
---